LOL I wasn't
planning
to make any more game addons (really I wasn't hehehe) cos I'm not much of a gamer myself, but this one is kinky as hell.
It's Deadly Rooms Of Death: Architects' Edition, the old freeware version from before they went commercial. All self-contained and fully portable too if you like to carry kinky games around on your USB stick to play when the boss is not looking.
Deadly Rooms Of Death "Architects' Edition" v1.6.7
LINK:
MrsP_Deadly_Rooms_Of_Death_Addon_v1.6.7-070905
MD5: 3199C3341D1F8636DCB6FFCB0C1D1819
SIZE: 10 MB
Description: Classic dungeons and dragons adventure game
Op System: Windows 2000, XP & 2003 (x86 only)
Builddate: 2005/03/26
Language: English
Title: Deadly Rooms Of Death
Version: 1.6.7
License: Open Source
Website: http://www.drod.net/
Installs to: "%programfiles%\Games\DROD"
Uninstaller: Removes program files, shortcuts, reg entries and a prompt to remove user-created game profiles
What is DROD?
Greater minds than ours have faltered and failed at those three little words. We're not entirely sure, ourselves - DROD can't be described in terms of other games without just confusing the issue. It's a puzzle game without block pushing or falling bricks. It's a turn based RPG without the role-playing or statistics. It's an action game without the action. It's a roguelike that really has little in common with Rogue and its cousins. It's rare that someone makes a game that can't be described as something-meets-something else, and it's almost impossible to describe to someone without sitting them down and just showing them the game.

You play a little ugly man, named Beethro, with an oversized sword. Like other characters with oversized swords, Beethro has an odd haircut and a job to do which will make him lots of cash - to get to the bottom of the dungeon, killing everything in his path, without dying himself.

The dungeon is made up of a lot of rooms - kill all the monsters in a room, and it stays clear. Clear all the rooms on a level, and you're allowed access to the next one. Often, you can enter and leave the rooms as much as you like, although it will reset the room if you haven't finished it. Every room is divided up into a grid - you can have only one thing in a square of the grid at a time (Beethro, his sword, a monster, a pit, and so on). Beethro will die as soon as one of the many denizens of the dungeons attacks him, and he's only got his sword for protection.

Of course, Beethro has an advantage. Unlike aforesaid games with characters with oversized swords, Beethro is experienced in killing all sorts of creatures, so it only takes waving the sword in their square to kill them; and Beethro has as much time as he needs to decide what to do. Every turn, he decides whether to move (using the number pad by default), wait (using the 5 on the number pad), or rotate his sword 45 degrees (using Q for clockwise and W for anticlockwise by default), and the game will pause while you decide his next step. Beethro makes his move, then the monsters (many puzzles taking advantage of this fact), so what could have been a frantic, and nigh on impossible, game of hack-and-slash becomes a violent but intelligent puzzle game.

And DROD has some of the toughest puzzles you'll ever see. Some will have you collapsing trapdoors and opening doors; some will have you coaxing invincible monsters into dead-ends; some will have you turning the monsters own attacks against them. And the last handful has you going up against their leader, the 'Neather, who delights in slamming doors in your face and sending wave after wave of monsters to kill you. It's a touching tale that parallels most of our daily existence, and the path to take to break free of our mundane existence and live the life we've always wanted. It's a cunning parable that would make Confucius proud. Let me explain.

The roaches symbolise our mundane problems - credit card debt, bills, the dog next door that just won't shut up - and the roach mothers the root of these problems, which is yourself. The evil eyes represent those problems that you never plan for but should. There are plenty of people who will help you if you let them once you've sorted out the mundane, but are soon followed by those that are vindictive just when you don't need it. You may feel like you're in the rat race, but some smart maneuvering will ensure you keep out of the way of the larger problems that restrict so many. Let your affection grow, don't get trapped by the small things, and keep a careful eye out for things that don't spring up onto you until it's too late.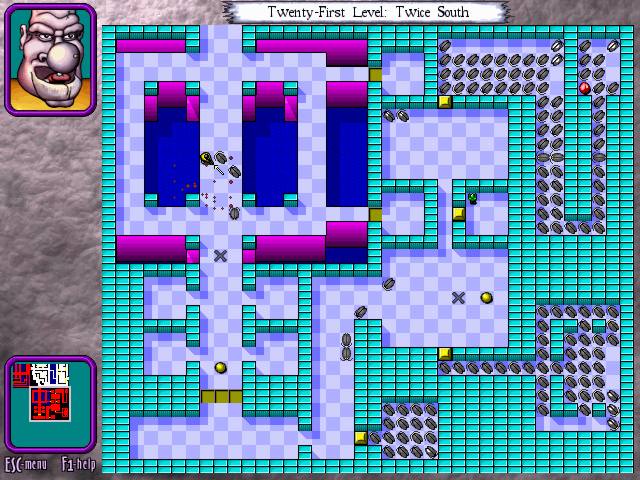 Enjoy!

[Edit 2006/03/09] Recoded ALL Mrs Peel Addon Packs for platform and licencing compliance
[Edit 2007/09/05] Rebuilt old switchless version as a proper addon with an uninstaller that prompts to delete user-created game profiles