There are a slew of freeware Directory Printers out there, but this is one of the rare ones I have had much success with personally. I tend to use KRKSoft Directory Lister for most jobs but it lacks the much needed ability to define the depth of folders you wish to list. This Karenware one fills that gap for now.
Karen has just updated all her appz to run smoothly with Vista and please note that they all require VB6 Runtimes - so you might want to grab RogueSpears Runtimes pack if you haven't already.
Directory Printer v5.2.4
LINK:
MrsP_Directory_Printer_Addon_v5.2.4-070929
MD5: 2AA90A956CEA4B7E6D3EC8469126C52E
SIZE: 577 KB
Description: Print directory lists and information about your files.
Op System: Windows 2000, XP & 2003 (x86 only)
Builddate: 2007/08/17
Language: English
Title: Directory Printer
Version: 5.2.4
License: Freeware
Website: http://www.karenware.com/powertools/ptdirprn.asp
Installs to: "%programfiles%\Desktop\DirPrinter"
Uninstaller: Removes program files, shortcuts, reg entries and personal settings
Directory Printer 5.2.4
No more fumbling with My Computer or Windows Explorer, wishing you could print information about all your files.
Karen's Directory Printer can print the name of every file on a drive, along with the file's size, date and time of last modification, and attributes (Read-Only, Hidden, System and Archive)! And now, the list of files can be sorted by name, size, date created, date last modified, or date of last access.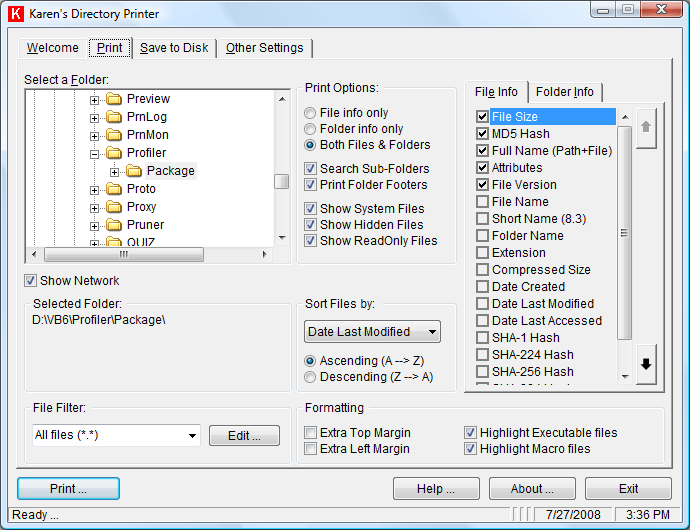 Enjoy (or not)

[Edit 2006/03/08] Recoded ALL Mrs Peel Addon Packs for platform and licencing compliance.
[Edit 2007/07/08] Updated to version v5.2, changed installation directory and customised the file filter list
[Edit 2007/08/07] Rebuilt with uninstaller
[Edit 2007/09/29] Rebuilt to update to version v5.2.4 (which has some structural changes to the app install) and added some missing reg entries to uninstall cleanup