This is the last freeware version of Net Transport before it went to shareware (currently at version 2.10). I haven't seen anything new in more recent versions that I felt I was missing out on and I love how nicely it integrates with FlashGot Firefox extension.
There is no longer documentation for this older version on their website, but you will find some fairly comprehensive documentation included in this addon pack. Installer also adds a shortcut in start menu, cos I use this a lot

Net Transport v1.90.267
LINK:
MrsP_Net_Transport_Addon_v1.90.267-070825
MD5: B2BB4B6F2F63944607CFE5511A53B176
SIZE: 1.34 MB
Description: Download manager for most internet protocols
Op System: Windows 2000, XP Home, XP Pro & 2003 (x86 only)
Builddate: 2004/06/20
Language: Multi-language
Title: Net Transport
Version: 1.90.267
License: Freeware
Website: http://www.xi-soft.com/
Installs to: "%programfiles%\Internet\NetTransport"
Uninstaller: Removes program files, shortcuts, reg entries and personal settings
Net Transport
How many times you like to locally save the streaming media, and you can't find any appropriate tool to accomplish this simple task. Thanks to Net Transport (NetXfer), now it's a piece of cake to do it with the help of this magic tool. Net Transport can download MMS and RTSP streaming by multiple threads with perfect video & audio quality. There are some other great features, like "Site Manager" which allows you to keep the active connection with the remote servers. In addition, the support for both SSL and SSH is hardly found in other upload/download tools.

Main Features:
* You can use the simple but powerful "File Manager" to categorize and manage downloaded files more efficiently.
* Simple multi-user management. You can maintain several databases by logging on Windows with different username.
* You can use the inbuilt "Site Explorer" to list the directory structure of the remote server, and easily select the desired files. FTP is the most powerful item in NetXfer.
* FTP reuse mechanism allows you to use one connection to get different files from the same site. If you like, you can use accessory FTP client tool called "FTP Transport (FtpXfer)".
* The "Multiple Proxies mode" allows you to assign every working thread a different proxy to break certain site restrictions, like only one connection per IP.
* Proxies with NTLM authentication can penetrate local firewall, like Microsoft ISA 2000.
* You can adjust the bandwidth usage of Net Transport to ensure surf at the same time.
* Monitor browser click. And you can add links through Internet Explorer extended context menu, or drag links to the "drop zone" window, etc.
* Net Transport can automatically shutdown the system or hang up the modem once all downloads are completed.
* Multilingual support for the user interface. I will be glad if you help me localize NetXfer.
* NTLM authentication is supported for both MMS and RTSP. In addition, RN5 authentication works for RTSP.
* You can use multi-threads for both MMS and RTSP to significantly reduce the time of downloads.
* Automatically parse streaming script such as .asx, .smi to acquire real URLs.
* Support SSL encryption for both HTTP and FTP, which is called https and ftps. Also support one-time password to protect your authentication information. Normally password is in the form of clear text, which is easily stolen by IP packet monitor tools. Presently NetXfer is the only one can download https streaming via SOCKS5.
* Support SSH encryption, which is hardly found in other upload/download tools for Windows.
* The flexible "Scheduler Manager" is also most powerful item in NetXfer. Even you can record the dynamic URL according to time and save it as your desire filename.
* In version 2, you can record the clip with range.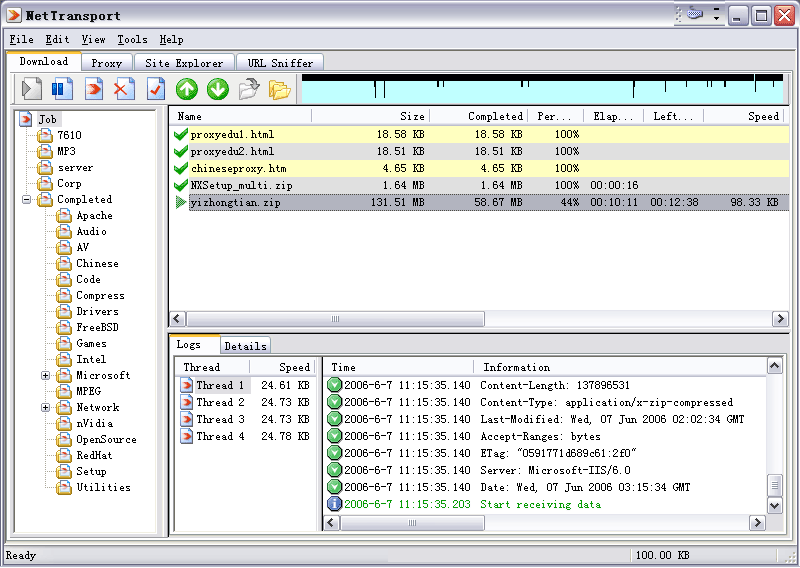 A very very big thanks to Boooggy for helping me out on the reg entries for the original addon, to Yumeyao who showed me the correct way to add multi-language support and to rick's trick that I used to apply Yumeyao's reg language tip

Enjoy (or not)

[Edit 2007/07/24] Rebuilt to include an uninstaller and add proper multi-language file registration, removed the runtimes dlls that were included in original installer, so you better make sure your own system has these if you want this to work


[Edit 2007/07/27] Minor inf tweak so that Firefox FlashGot plugin will locate this properly
[Edit 2007/08/04] Rebuilt optional components section and optimised some stuff in the inf file
[Edit 2007/08/11] Improved startmenu shortcut install method
[Edit 2007/08/25] Tweaked uninstall reg entries to force a proper icon to display in Add/Remove programs