Here is FlashBoot V1.3.0.124
Note:
FlashBoot is a tool that makes USB disks bootable. It was specially designed to work with USB Flash devices. It is used to reformat flash disk and transfer system files to it. I used it on a
PenDrive
mini 1 gb. It hase a transfer rate of 9.5 mb/s on avarage. I would sugest a faster 1. After formating it with the tool from
this
page i managed to make a bootable BartPE on it.
This is a addon for nLite. Sow if you're into (Ore would like to try) booting a OS ore program from usb you might like this.
You have many options for your choice:
convert BartPE bootable CD-ROM to bootable USB disk
transfer DOS kernel only (you may get the files from installed Windows 9x, from Windows 9x setup folder, or use built-in FreeDOS)
convert floppy disk to USB Flash disk (a diskette or an image file may be used)
convert a bootable CD-ROM to USB Flash disk (again images are supported). There are some technical difficulties with supporting any type of CD-ROM here, see details below. But there should be no troubles with the most real cases. You may convert Knoppix and EBCD, for instance.
create Windows NT/2000/XP password recovery disk
create disk with NT/2000/XP bootloader. It would be useful when you have mistakenly configured it, and boot.ini file was left on unreachable disk (NTFS).
duplicate USB flash disk. Just creates a copy of existing disk USB flash disk, different sizes of source and destination medias are OK.
Screemshot: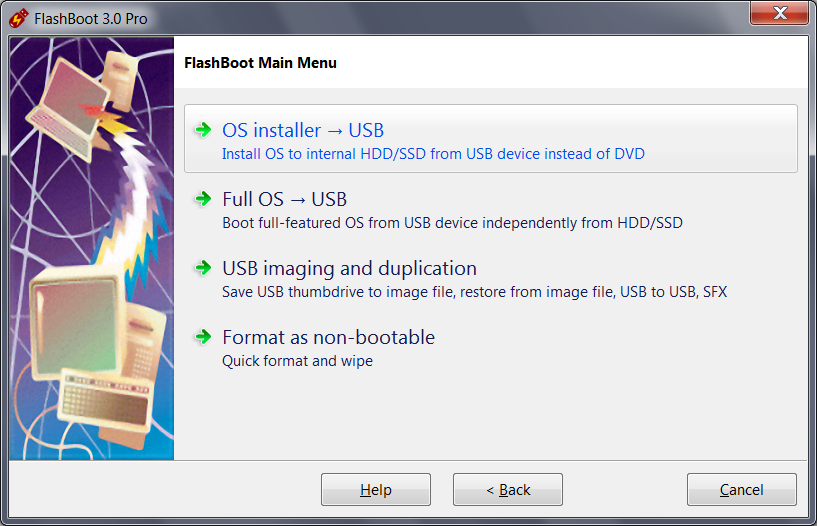 Introduction:
Readmore here:
File Size: 2.74 MB (2,882,730 bytes)
MD5 hash: C5E685A5D8B26AED91701F3A63A54F77
Download here:
Features:
Change:
Guide BartPE to BartPE boot from USB:
1 Get a xp sp 2 souce (from you cd xp cd, harddrive what ever)
2 Get a usb stick, usb 2 competable with 256 md ore more.
3 Coppy the i386 dirrectory tot a folder on you're harddrive. (Exemple: C:\USBUXPCD\i386)
4 Get the Pe Builder program from:
http://www.nu2.nu/
and install it. (There is a new version under development)
5 Make a BartPE iso with help of the Pe Builder. (Look on
http://www.nu2.nu/
tot make a costum BartPe XP cd if you like)
6 Install FlashBoot to.
7 Start Flashboot and use the first option. (Convert BartPE bootable disk to bootable flash disk) Select the BartPE.iso file made in step 5. Follow the rest of the steps in the program. (See the screemshot)
Last Notes:
Forum about BartPE:
http://www.911cd.net/forums/index.php?=showtopic=10806
Before you can boot from usb go into you're bios and set it to boot from USB.
(Write down any settings you change, in case you have to restore them later)