An oldie but a goodie, so I don't think this requires any introduction by me

TMPGEnc v2.524.63.181
LINK:
MrsP_TMPGEnc_Free_Addon_v2.524.63.181-070904
MD5: 23A88E3F07E6936CC8B9EDDE74C9050B
SIZE: 1.31 MB
Description: Encode AVI files into MPEG1 to make VideoCDs
Op System: Windows 2000, XP & 2003 (x86 only)
Builddate: 2004/10/25
Language: Multi-language
Title: TMPGEnc Free
Version: 2.524.63.181
License: Freeware
Website: http://www.tmpgenc.net/
Installs to: "%programfiles%\Ripping\TMPGEnc"
Uninstaller: Removes program files shortcuts, reg entries and personal settings
TMPGEnc 2.524.63.181
TMPGEnc converts *.AVI files to MPEG1, the format which is used in VideoCDs. Using a variety of options in TMPGEnc, you can compress your video file in high quality. It enables you to adjust bitrate, quantize matrix, GOP structure, interlacing and many other parameters so that you can create the most appropriate movie file depending on your needs.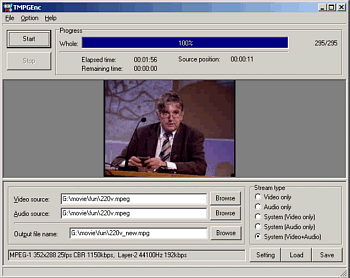 Enjoy (or not)

[Edit 2007/09/04] Minor tweak to remove obsolete reg entry