You will need this if you want to play videos with subtitles, so I consider it a "must-have"
Yikes, this addon was a lot trickier than I expected, but I think I've got it all working perfectly now (only tested on Win2k3), so please let me know how it works for y'all on your own system. I have included in this pack the latest VSFilter v2.37, which will co-exist quite happily alongside the old VobSub v2.23 (which is required for Vdub plugins), and also VobSubStrip v0.11.
Please note that this does not install the VobSub plugins for VirtualDub, because all my Vdub-ish releases alredy have those plugins included in their own installers, and the uninstaller for this will not touch them either

Gabest VobSub v2.23 with VobSubStrip v0.11 and VSFilter v2.37
LINK:
MrsP_VobSub_Bundle_Addon_v2.23-070920
MD5: 8E6753C5560E5FE1ED08998C94D4D01F
SIZE: 711 KB
Description: Rip and render subtitles from VOB files
Op System: Windows 2000, XP & 2003 (x86 only)
Builddate: 2002/12/11
Language: Multi-language
Title: VobSub Bundle
Version: 2.23
License: Freeware
Website: http://sourceforge.net/projects/guliverkli/
Installs to: "%system32%"
Uninstaller: Removes documention, shortcuts, reg entries and settings
VobSub
DirectShow subtitle filter for all software video players. It also contains a subtitle filter for Virtualdub and some useful subtitles utilities such as subresync than can convert idx/sub to srt text subtitles, submux, vobsub cutter, sub cutter and joiner.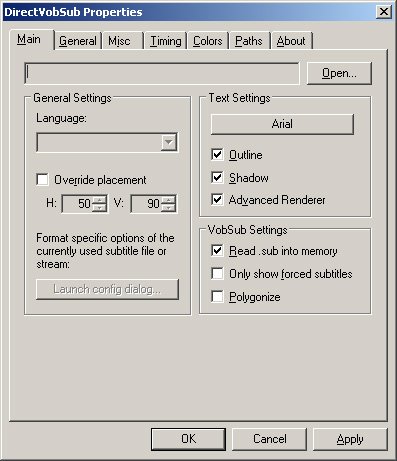 Enjoy (or not)