I was ecstatic to discover a new version of this, since I had to abandon their old v1.2 cos of a bug building DVD-sized ISOs (which is what I primarily need this utility for) and that is fixed now in this latest release YAYYYYY. I've tested onna 4.2GB DVD of audio files with long names and 5-level deep sub-directories and t'was purrrrrrrfect ISO output (and quite speedy too considering my slow drive speed).
OK, I know it's not as sexy looking as UltraISO, but for those of us who are seeking a truly free ISO solution to our regular home computing needs then this one just might potentially fill the gap in combo with
ImgBurn

Folder2Iso v1.4
LINK:
MrsP_Folder2Iso_Addon_v1.4-070930
MD5: 8F08E06E1FEACB3EA1D5EC7868C40D71
SIZE: 1.05 MB
Description: Create an ISO file from any kind of folder
Op System: Windows 2000, XP & 2003 (x86 only)
Builddate: 2007/04/23
Language: English
Title: Folder2Iso
Version: 1.4
License: Freeware
Website: http://www.trustfm.net/divx/SoftwareFolder2Iso.html
Installs to: "%programfiles%\CD-DVD\Fold2Iso"
Uninstaller: Removes program files, shortcuts reg entries and settings
Folder2Iso
Folder2Iso just creates an iso from any kind of folder (with the subfolders). Its a GUI of mkisofs - no need of installation, really small exe.

Some of you can say: "What is the point of this tool? Seems useless." Well dvddecrypter/imgburn can burn CD/DVD for free so if you make an ISO easily you can burn your movies on CDs/DVDs for free. It is also useful for the dvd2avi guide...

So, DvdDecrypter/ImgBurn + Folder2Iso combine a totally freeware burning kit for all kinds of AVI/OGM/MKV!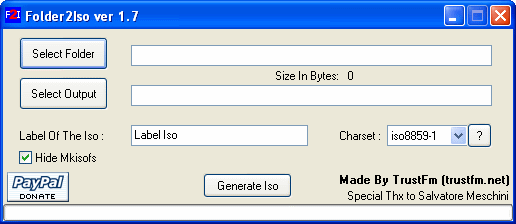 Enjoy (or not)