For quick dirty renaming jobs of files in the same folder I use Jackass JoeJoe's
Rename Master
but for the bigger "industrial strength" renaming jobs I have been faithfully using Naru's Flexible Renamer for several years with complete success and satisfaction.
I have not enabled the shell menu and sendto menu by default in this installation because they are way too messy for my liking, however I did include entries in the uninstaller to remove them in case you decided to add them manually post-install.
Configuration can be a bit complex for new users, but it's well worth the effort to learn in order to master the full power of this utility and enjoy the benefits of it's precision and super-fast speed.
Flexible Renamer v7.3
LINK:
MrsP_Flexible_Renamer_Addon_v7.3-070904
MD5: 48EC5888C2D8861C9B379FC37A8CE2B9
SIZE: 514 KB
Description: Powerful mass file and folder renaming utility
Op System: Windows 2000, XP & 2003 (x86 only)
Builddate: 2003/06/04
Language: English/Japanese
Title: Flexible Renamer
Version: 7.3
License: Freeware
Website: http://hp.vector.co.jp/authors/VA014830/FlexRena/
Installs to: "%programfiles%\Utilities\FlexRename"
Uninstaller: Removes program files, shortcuts, sendto entries, reg entries and personal settings
Flexible Renamer
Flexible Renamer is a powerful file and folder renaming utility that supports Wildcards and Regular-Expressions. It offers a Window Explorer style interface and a variety of renaming options, including options to remove numbers or strings, replace strings, insert numbers, translate letters and much more. You can also use Flexible Renamer to create empty objects in form of files or folders. It also supports Tag-information such as ID3(MP3), EXIF, IPTC, MS-Office, HTML.

Features:
* Explorer-like user interface.
* Can use Wildcard or Regular-Expression(Perl Compatible) for substitution of file name.
* Multiple file-filter, Real-time preview, Undo.
* Designed for processing a large quantity of files.
* Can recursively process sub-directories.
* Can Copy(Move) & Rename to another folder.
* Can distribute into the folder by using relative path.
* Can consecutive numbers to every classified groups (folder, date, tag).
* Rename(Copy/Move) object(file/folder).
* Insert a Number or a String (the file's Timestamp/Folder name)
* Remove a Number or a String(Shortcut to, Copy (n) of, [n], (n)), Supported 8.3 Format
* Translate Letters (upper/lower-case, capitalize)
* Replace String
* Other flexible rename using pattern matching.
* Direct-editing of target name.
* Rename(Copy/Move) using tag information.
* ID3(MP3), EXIF, IPTC, MS-Office, HTML.
* Modify object(file/folder) attributes and time-stamps.
* Specify DateTime, Shift, Random Gernerate, Make the Same.
* Create numbered object(sized file/folder).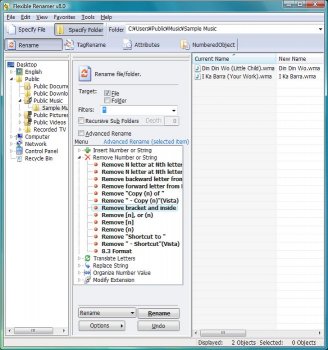 Enjoy (or not)

[Edit 2006/03/08] Recoded ALL Mrs Peel Addon Packs for platform and licencing compliance.
[Edit 2007/09/04] Rebuilt with uninstaller, included some files missing from original build