I see Dale has already had a switchless release for version 2.28 of this app, but it was updated 2 days ago and I wanted to have it as a proper addon pack for a friends installation. I am growing more and more fond of this FastStone Image Viewer and I recommend it to a lot of my PC newbie friends who have digital cameras and want to do small image jobs like cropping, redeye removal and resizing for email. It's infinitely more newbie friendly than IrfanView IMO.
I included the Image Viewer Tutorial PDF in this pack which I downloaded from their website and gussied up a little in Acrobat - added proper bookmark menu and optimised file to 2/3 original size. It's an excellent guide for newbies so well worth the extra 1mb cab size.
FastStone Image Viewer v2.5
LINK: DELETED
MD5: *******
SIZE: 3,759 KB
Builddate: 2006/04/26
Description: FastStone image browser, converter and editor.
Language: English
Title: FastStone Viewer
Version: 2.5
License: Freeware
Website: http://www.faststone.org/FSViewerDetail.htm
Installs to: "%programfiles%\Graphics\FSViewer"
Op System: Windows 2000, XP & 2003
FastStone Image Viewer
FastStone Image Viewer is a fast, stable, user-friendly image browser, converter and editor. It has a nice array of features that include image viewing, management, comparison, red-eye removal, emailing, resizing, cropping and color adjustments. Its innovative but intuitive full-screen mode provides quick access to EXIF information, thumbnail browser and major functionalities via hidden toolbars that pop up when your mouse touch the four edges of the screen.
Other features include a high quality magnifier and a musical slideshow with 150+ transitional effects, as well as lossless JPEG transitions, drop shadow effects, image frames, scanner support, histogram and much more. It supports all major graphic formats (BMP, JPEG, JPEG 2000, animated GIF, PNG, PCX, TIFF, WMF, ICO and TGA) and popular digital camera RAW formats (CRW, CR2, NEF, PEF, RAF, MRW, ORF and DNG).
Features:
* Common image formats support, including loading of JPEG, JPEG2000, GIF, BMP, PNG, PCX, TIFF, WMF, ICO, CUR, TGA and saving to JPEG, JPEG2000, TIFF, GIF, PCX, BMP, PNG, TGA
* Digital camera RAW formats support, including CRW, CR2, NEF, PEF, RAF, MRW, ORF and DNG
* Full screen viewer with Select - Zoom support
* Crystal clear and customizable magnifier
* Resizing, flipping, rotating, cropping, emailing and color adjusting tools
* Powerful crop-board that crops images into pre-defined and customized print sizes
* Image EXIF metadata support
* Batch image converter/resizer
* Slideshow with 150+ transitional effects and MP3/WAV/MIDI/WMA background music support
* Compare images side by side
* Undo, Redo and Mouse Wheel support
* Simple and effective red-eye removal
* Much more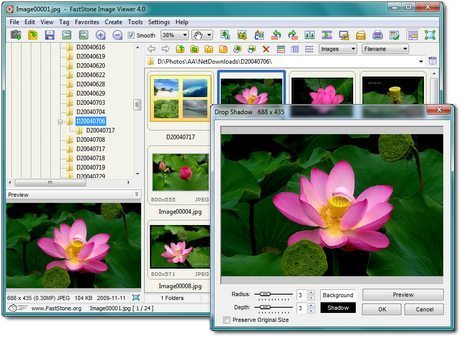 Enjoy (or not)

[Edit 2006/03/08] Recoded ALL Mrs Peel Addon Packs for platform and licencing compliance.
[Edit 2006/03/19] New version released. Updated addon pack to v2.4.
[Edit 2006/04/27] New version released. Updated addon pack to v2.5.
[Edit 2007/07/16] No time to maintain this any more. Deleted old outdated version.