My very favourite freeware calculator. Nuff said

ESB Calculator v6.2.1
LINK:
MrsP_ESB_Calculator_Addon_v6.2.1-070804
MD5: B1718669E2D2319FA23195FE171616AA
SIZE: 544 KB
Description: Scientific calculator that supports precedence
Op System: Windows 2000, XP Home, XP Pro & 2003 (x86 only)
Builddate: 2007/07/19
Language: English
Title: ESBCalc
Version: 6.2.1
License: Freeware
Website: http://www.esbconsult.com/esbcalc/esbcalc.htm
Installs to: "%programfiles%\Desktop\ESBCalculator"
Uninstaller: Removes program files, shortcuts, reg entries and user data
ESBCalc v6.2.1
ESBCalc is a Freeware Scientific Calculator for Windows with Infix Notation, Brackets, Scientific Functions (Trigonometric, Hyperbolic, Logarithmic - including Base 10, Base 2 & Natural - plus more), Memory, Paper Trail, Result History List and more.
Features:
* Includes support for Prefix functions so to evaluate log (10) you can enter log 10 rather than 10 log (which is the default behaviour)
* The visual appearance of ESBCalc has been optimised for 800x600 (or better) with 16-bit colour (or better). It looks really great under Windows XP with its 32-bit colour. You will also get the "nicer" buttons on Windows XP and above.
* Also includes customising of the Colours & Fonts used, as well as customising how the Hints (ToolTips) appear.
* Works on Windows 95, Windows 98, Windows Millennium, Windows NT4, Windows 2000, Windows XP and Windows 2003.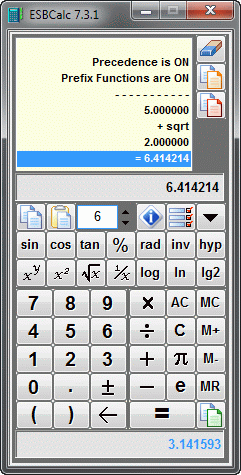 Enjoy (or not)

[Edit 2007/06/20] Updated to version v6.1.0
[Edit 2007/07/20] Update to version v6.2.1, rebuilt with an uninstaller and included some files missing from original release
[Edit 2007/07/29] Rebuilt optional components section
[Edit 2007/08/04] Fixed entries.ini and optimised some stuff in the inf file