I don't think this very sexy l'il Open Source Website Copier needs any introduction or promotion by moi

Please note that I have rebuilt this with an uninstaller that will completely nuke the program folder, so make sure that you do NOT save your mirrored web sites in there. The installer creates a folder in My Documents called "My Intranet" which is the suggested place to save your sites.
WinHTTrack v3.41-3
LINK:
MrsP_WinHTTrack_Addon_v3.41.3-070919
MD5: C09015E2E3EF8CE640EF1DCA1F865C68
SIZE: 1.98 MB
Description: Offline browser and website mirroring utility
Op System: Windows 2000, XP & 2003 (x86 only)
Builddate: 2007/06/15
Language: English
Title: WinHTTrack
Version: 3.41-3
License: Open Source
Website: http://www.httrack.com
Installs to: "%programfiles%\Internet\HTTrack"
Uninstaller: Removes program files, shortcuts, reg entries and personal settings
HTTrack Website Copier
HTTrack is a free (GPL, libre/free software) and easy-to-use offline browser utility. It allows you to download a World Wide Web site from the Internet to a local directory, building recursively all directories, getting HTML, images, and other files from the server to your computer.
HTTrack arranges the original site's relative link-structure. Simply open a page of the "mirrored" website in your browser, and you can browse the site from link to link, as if you were viewing it online. HTTrack can also update an existing mirrored site, and resume interrupted downloads. HTTrack is fully configurable, and has an integrated help system.

Features:
* Open source (GPL) and free software (source code given)
* Mirror one site, or more than one site together (with shared links)
* User-selectable recursion levels
* Quickly updates downloaded sites and resumes interrupted downloads (due to connetion break, crash, etc.)
* Filter by file type, link location, structure depth, file size, site size, accepted or refused sites or filename (with advanced wild cards).
* Timeout and minimum transfer rate manager to abandon slowest sites
* Wizard to specify which links must be loaded (accept/refuse: link, all domain, all directory)
* Multiple-connection mode (default: 8 connections) maximizes download speed
* HTTP compression (gzip..)
* Proxy support to maximize speed, with optional authentication
* Reget (resume) for partially transfered files (HTTP/1.1)
* File names with original structure kept or splitted mode (one html folder, and one image folder), dos 8-3 filenames option and user-defined structure
* Automatic switch for "Moved" errors
* HTML parsing and tag analysis, including javascript code/embedded HTML code
* Basic java and Flash parsing
* Integrated DNS cache
* Native HTTPS and IPV6 support
* Optional log file with error-log and comments-log
* User-specified paths for mirror and log files
* Works as a command-line program, or through a shell for both private (capture) or professionnal (on-line web mirror) use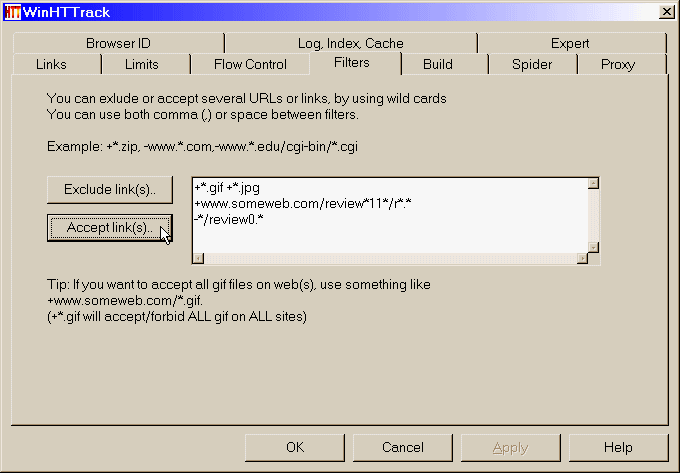 May the Source be with you!!!

[Edit 2006/03/08] Recoded ALL Mrs Peel Addon Packs for platform and licencing compliance
[Edit 2006/03/16] Abandoned this as an addon pack and rebuilt as a switchless installer, updated to v3.40
[Edit 2007/09/19] Abandoned this as a switchless installer, re-rebuilt as an (uninstallable) addon pack again and updated to v3.41-3