I needed an individual version of this one to include in a graphic apps collection I made for a friend, so thought I may as well share it here too. Please note this one installs in a different place to other pack maker's NirSoft addons

Please note that I from now on I will only be maintaining this and one other NirSoft addon
Reg Scanner
, which is part of my Quicklaunch appz collection.
IconsExtract v1.41
LINK:
MrsP_Icons_Extractor_Addon_v1.41-070805
MD5: 2DD6272C0D7D489AD0B8609EBE0E01DA
SIZE: 33 KB
Description: Extract icons and cursors from program files
Op System: Windows 2000, XP & 2003 (x86 only)
Builddate: 2006/04/08
Language: English
Title: IconsExtract
Version: 1.41
License: Freeware
Website: http://www.nirsoft.net/utils/iconsext.html
Installs to: "%programfiles%\Graphics\IconsExtract"
Uninstaller: Removes program files, shortcuts, program settings and reg entries
IconsExtract v1.40 - EXE/DLL/OCX/CPL icon grabber/extractor
The IconsExtract utility scans the files and folders on your computer, and extract the icons and cursors stored in EXE, DLL, OCX, CPL, and in other file types. You can save the extracted icons to ICO files (or CUR files for cursors), or copy the image of a single icon into the clipboard.
IconsExtract can only extract icons from 32-bit executable files. It cannot extract icons from 16-bit files.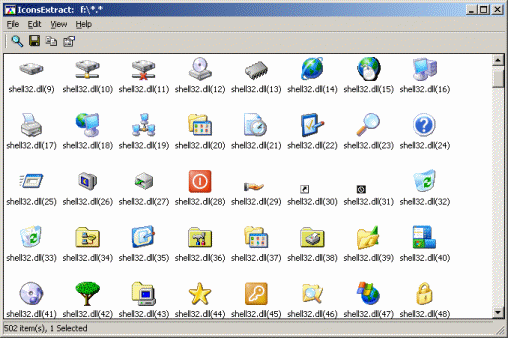 NirSoft Rulez!!!!

[Edit 2006/04/05] Updated to include missing help file.
[Edit 2006/04/17] Bumped version to v1.41 and updated MD5 sums.
[Edit 2007/07/06] Recoded to include an uninstaller
[Edit 2007/08/05] Updated uninstaller to work with XP Home