One of the more comprehensive freeware unit converters I have had the good fortune to find and you can update their unit databases online whenever you need to. An oldie but a goodie....
Versaverter v3.0.0.178
LINK: NUKED
MD5: *******
SIZE: 403 KB
Builddate: 2002/02/19
Description: A versatile updatable unit conversion application.
Language: English
Title: Versaverter
Version: 3.0.0.178
License: Freeware
Website: http://www.pawprint.net/vv/
Installs to: "%programfiles%\Desktop\Versaverter"
Op System: Windows 2000, XP & 2003
Versaverter Features
Have you ever needed to know how many square inches there are in a hectare? How about how many grams in a slug? (well probably not) but, just think, now you can find out!
Versaverter is a windows based, flexible unit conversion utility that uses a user modifiable web updateable, knowledge base for unit conversions. Versaverter can handle any unit conversion that follows a first order mathematic formula, and even includes a small utility to allow conversion between numeric bases.
Simply select a source and destination unit from the extensive categorized list that is included with Versaverter or create your own. Then type in the number to convert - the answer is displayed as you type - it's that simple!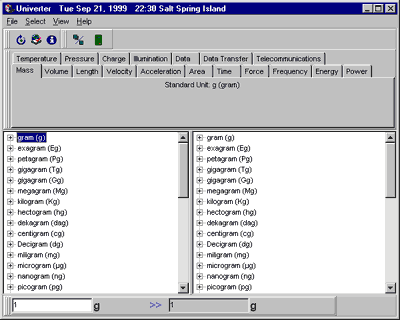 Enjoy (or not)

[Edit 2007/08/21] No responses to this post in 18 months so I guess nobody is using this. Withdrawn due to lack of member interest.