Another teensey weensey but very handy utility from the Robin Keir software collection.
IP2 v1.04
LINK:
MrsP_Robin_Keir_IP2_Addon_v1.04-070824
MD5: 3147D1B1CEFC1B8F75DDAC6E1E1E0AD9
SIZE: 9 KB
Description: Identify and display LAN or WAN IP addresses
Op System: Windows 2000, XP & 2003 (x86 only)
Builddate: 2006/09/01
Language: English
Title: IP2
Version: 1.04
License: Freeware
Website: http://keir.net/ip2.html
Installs to: "%programfiles%\Network\IP2"
Uninstaller: Removes program files shortcuts and settings
IP2 1.04
IP2 is a small program that you can use to determine your IP addresses - both WAN and LAN. What this means is that along with showing you the traditional IP address that your computer is using in its local environment (e.g. a LAN) it will also show you what your IP address is from the perspective of an "outsider" on the Internet. This is in contrast to the many tools and utilities available on the Internet that simply return the LAN address, which is useless if somebody on the Internet needs to connect to your computer.

Your WAN and LAN IP addresses may be the same if you are directly accessing the Internet with something like a dialup modem or a cable modem without a hardware NAT router. However, if you are using some kind of hardware router or firewall as your gateway to the Internet, your computer will most likely have been assigned a "non-routable" IP address such as 10.1.2.3 or 192.168.1.2 for example. In this situation there is no easy way to find out what your true Internet IP address is. This is where IP2 comes into play.

IP2 uses one of several methods to determine your true Internet IP address. A built-in list of several servers enables the program to send a request and receive a reply from a remote server containing your Internet accessible IP address.

Methods:
* Queries one of the MyWANIP servers (hope they don't mind!) and deciphers the response containing your IP.
* Queries the Geektools Whois server (whois.geektools.com) and parses the output for the string containing your IP address.
* Queries one of the following web sites. All of these are running a script that will report back web CGI variables, including the REMOTE_ADDR environment variable that contains the caller's IP address. This list was gathered using a quick search on the web and is in no particular order.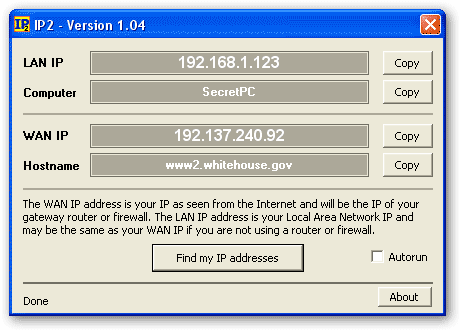 Enjoy (or not)

[Edit 2007/06/20] Updated to version v1.04
[Edit 2007/08/24] Rebuilt with uninstaller