I use this File Search utility in tandem with
Agent Ransack
. It has a slew of configuration settings which you will need to set up to your own personal taste on first run when you index your own personal search database.
Included with this release is some of my own reg entries to pre-configure a few things, added entries to the shell menu and configured ONE blank database to get you started - but it is only set to scan your C drive, so you will need to edit those settings to suit yourself post-install.
Shortcuts will be added to Program Menu\Utilities and All Users\Start Menu. The native uninstaller for this program does not so a clean uninstall, so I wrote a full inf uninstaler for it instead.
Please note, this is a stable beta release which has sorted most of the bugs in previous beta builds and I haven't found any problems with this verion.
Locate32 v3.0.7.8190
LINK:
MrsP_Locate32_Addon_v3.0.7.8190-070907
MD5: B5CF55247CD123D102AD30895F934592
SIZE: 505 KB
Description: Locate files and folders on your hard drives
Op System: Windows 2000, XP & 2003
Builddate: 2007/08/19
Language: English
Title: Locate32
Version: 3.0.7.8190
License: Open Source
Website: http://www.uku.fi/~jmhuttun/english/softwares.shtml
Installs to: "%programfiles%\Utilities\Locate32"
Uninstaller: Removes program files, shortcuts, shell menus, autorun, reg entries and a prompt to delete stored search databases
Locate32
This program saves names of all files in your hard drives to file database. After that you can locate files. Very fast.

This program works like updatedb and locate in Unix systems. Win32 based locating program also included. Program works with Windows 98/ME/NT4/2000/XP (and with Windows 95 if Internet Explorer 3 is installed).

Before you can use program you must create file database. Run updatedb.exe or updtdb32.exe if you have Windows'95 or Windows NT. You can also create database by using Locate32.

Locate has support for perl compatible regular expression and implemented using PCRE library.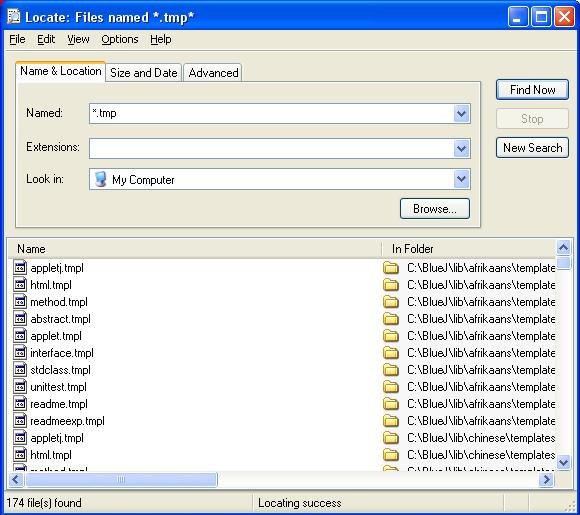 Enjoy (or not)

[Edit 2006/03/08] Recoded ALL Mrs Peel Addon Packs for platform and licencing compliance.
[Edit 2006/04/04] Bumped version to v2.99.6.3190, added reg entries and updated MD5 sums.
[Edit 2006/08/04] Bumped version to v2.99.6.5130 and updated MD5 sums.
[Edit 2007/06/20] Bumped version to v3.0.7.6170 and updated MD5 sums.
[Edit 2007/09/07] Major rebuild with uninstaller that removes post-install user-configured shell settings and prompts to delete user search databases