UltraFXP used to be a $39 product before it got
sued by FlashFXP
and decided to go Freeware. Personally I think this was bullshit, as I used FlashFXP for about 3 years before switching to UltraFXP (in protest of them bullied this poor bastard) and having used it ever since there is IMO not enough similarites to warrant their accusations.
But anyhoo... I find UltraFXP a superior product in many ways and the authors loss is my gain. I enjoy the features it offers which you don't find in other freeware FTP programs, such as the tab feature (even FileZilla, my next fave FTP client can't get it's shit together to implement tabbing yet), excellent FXP function and best of all it is standalone portable which will not fill your registry up with junk.
For current FlashFXP users who wish to make the switch, there is a very excellent utility which will convert your existing FlashFXP databases to UltraFXP ones and I have included this in the installation too in the folder "FlashFXP".
UltraFXP (Free Edition) v1.07
LINK:
MrsP_UltraFXP_Free_Edition_Addon_v1.07-070905
MD5: 91E1EEAB8CA7D6863A6D961FEDC86F7A
SIZE: 3.03 MB
Description: Freeware FTP and FXP client for Windows
Op System: Windows 2000, XP & 2003 (x86 only)
Builddate: 2004/03/28
Language: English
Title: UltraFXP
Version: 1.07
License: Freeware
Website: http://www.ultrafxp.com
Installs to: "%programfiles%\Internet\UltraFXP"
Uninstaller: Removes program files, shortcuts, reg entries and personal settings
UltraFXP v1.07 Freeware
UltraFXP is an FTP client for Windows. It can transfer files from FTP servers directly to and from your local hard drive, or transfer files between FTP sites (site to site transfer). The user interface is very intuitive and full of features, synchronization of folders and drag 'n drop.

Features:
* Support multi Servers
* Support script
* Support Ftp upload download and FXP(site to site file transfer)
* Full multi threads, no any freezing
* Quick connect to ftp by paste a ftp url
* Support Max logins&download logins for ftp servers.
* Support Site link, so you can put a site link to another group without create a new site
* Auto save Site local directory
* IdentD support
* Support Ftp Proxy
* Recursive directory delete
* Anvanced skip list
* Custom anti-idle command
* Auto reconnect to ftp server if get kicked
* Site bookmark to fast change to ftp directory
* Press SHIFT Key login to kill ghost with !username (raidenftpd and glftpd)
* Support more than 1 host&ip per site
* Grouped SITE custom commands.
* Support Auto/Manual CRC check
* Test availability of Sites by 1 click
* Annouce Connect/Disconnect/Upload/Download/FXP stats to mIRC
* Support "STAT -l" list directory for glftpd
* Limit Upload/Download speed
* Support SSL
* Support custom highlights
* Powerful task manager
* Multiple rename FTP/Local filename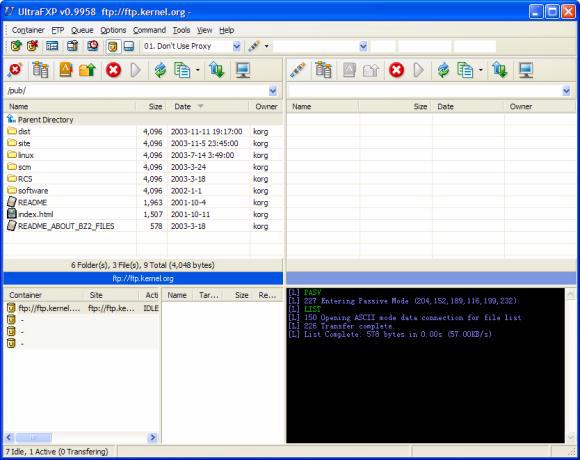 Enjoy (or not)

[Edit 2006/03/08] Recoded ALL Mrs Peel Addon Packs for platform and licencing compliance.
[Edit 2007/09/05] Rebuilt with uninstaller and did some extensive pre-configurations to make client behave properly on servers and during FXP