I use this all the time. It's lean clean and stable, no unnecessary bells and whistles and written in assembly language - which I really really like.
Winroll v2.0
LINK:
MrsP_WinRoll_Addon_v2.0-070804
MD5: 35DEDD7C6FDEB44BA0A7834F1FE411F2
SIZE: 17 KB
Description: Make windows roll up into their title bar
Op System: Windows 2000, XP Home, XP Pro & 2003 (x86 only)
Builddate: 2004/04/07
Language: English
Title: WinRoll
Version: 2.0
License: Freeware
Website: http://www.palma.com.au/winroll/
Installs to: "%programfiles%\Desktop\WinRoll"
Uninstaller: Removes program files, shortcuts and reg entries
Roll Up With WinRoll
WinRoll easily manages multiple open windows. Make a window roll into its title bar, send it to the back or make it stay on top. Minimize, maximize or close all visible windows, including minimizing to the tray area. Make a window translucent on Windows 2000 or above.
WinRoll is lovingly hand-crafted in 100% pure assembly language to give the fastest response and the smallest memory footprint. WinRoll is proudly a freeware and open source application.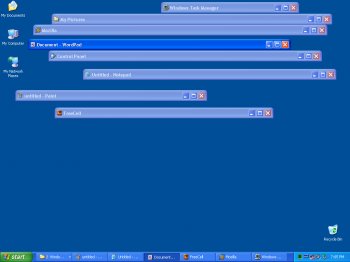 Enjoy (or not)

[Edit 2006/03/08] Recoded ALL Mrs Peel Addon Packs for platform and licencing compliance.
[Edit 2007/07/10] Rebuilt with a new-fangled uninstaller and added some missing help files from original build, big thanks to Kel for showing me the Uninstall prompt thingee and helping to fix the flashing CMD window
[Edit 2007/07/29] Rebuilt optional components section
[Edit 2007/08/04] Fixed entries.ini, optimised some stuff in the inf file and added extra delreg entries that needed cleaning up post-install