Woohooooooooo!!!! Andre Wiethoff has very kindly granted me permission to redistribute this here as an addon! He has asked me to remind you all that this is NOT "freeware" but an
unregistered
copy of the software, so I hope y'all will do the right thing and visit his website to register it as he asks.
If you are wondering why I have released version 0.95b3 here instead of the latest version it is because Andre was under pressure to remove the TOC feature of EAC due to German copyright law and this previous version still has it included for those of us who need it. See the news entry on his website
here
for more information on that.
When I first released this last year I said I
might
consider making an addon for more recent versions of this when they come out IF they possess some substantial new features which might outweigh the loss of TOC. I have since decided to NOT upgrade above v0.95b3 because the ripping standards of some private music sites I belong to demand the use of this particular version
with
the TOC - and unless that changes in future neither will I so do NOT bother trying to engage me in a debate about it here.
Now for the good news, which is that I have totally rewritten this addon from the ground up and included a whole lot of extra goodies, such as the FLAC 1.2.1 binary, the LAME v3.97 final binaries, and some new documentation files and shortcut links to popular EAC user guides and the AccurateRip database. I have also updated the FreeDB databases list, the AccurateRip DLL and the cygwin1.dll to versions that are current at the time of this release AND preconfigured the default settings to FLAC at the "scene standard" required by reputable private music sites.
Other things I have changed from my previous EAC addon release are that I moved the installation directory, built an uninstaller that will also cleanup any new files created by the program with runonceex on reboot, and removed the old
Coaster Factory
EAC guide (which I converted to pdf for you) that has since been removed from their website because because the author considers it too outdated now. (RIP to one of the best EAC resources on the net
)
In the addreg section, I have preconfigured everything right-ready-to-go for your first "scene standard" FLAC rip, however I did NOT add any reg entries for settings that pertain to any specifc CD/DVD drive you might be using. The reasons for this are obvious, but never fear, on first run the software will contact the AccurateRip database and insert the correct offsets for your particular drive. Pretty cool huh
Alrightee then, I don't think this most excellent audio utility needs any further introduction by me....
Exact Audio Copy v0.95b3
LINK:
MrsP_Exact_Audio_Copy_Addon_v0.95b3-070918
MD5: 49734B218755B3859254B1293DA9D6EA
SIZE: 2.44 MB
Description: Grab audio from CD-ROM and convert to digital
Op System: Windows 2000, XP Home, XP Pro & 2003 (x86 only)
Builddate: 2005/08/26
Language: Multi-language
Title: Exact Audio Copy
Version: 0.95b3
License: Cardware (Unregistered)
Website: http://www.exactaudiocopy.org/
Installs to: "%programfiles%\Ripping\ExactAudio"
Uninstaller: Removes program files, shortcuts, reg entries, personal settings and program created dat files (on next boot)
Exact Audio Copy
EAC is a new audio grabber for CD-ROM drives. The main differences between most other audio grabbers is the cost of registration is low (just a postcard and a stamp) and it works with a new technology, reading audio CDs almost perfectly. If there are any errors that can't be corrected, it will tell you on which time position the (possible) distortion occurred, so you could easily control it with e.g. the media player

Features of EAC:
* Usage of the Windows 95 and Windows NT ASPI Interface, so both SCSI and ATAPI CD-ROM drives are supported
* Hidden sector synchronization (jitter correction)
* Secure, fast and burst extraction methods selectable. Fast extraction should run at the same speed as other grabbers, but is probably not exact anymore. Burst mode just grabs the audio data without any synchronization.
* Read error and complete loss of sync detection and correction in secure modes, as far as possible
* Output of time positions of all non-exact corrections and listen to these positions
* Copy of ranges of music data, not only tracks
* Automatic Speed reduction on errors and fallback afterwards
* Normalization of extracted audio
* Usage of the Windows Audio Compression Manager (ACM Codecs) for direct compression e.g. to MP3 waves
* Support for the BladeEnc DLL that is usable like an ACM Codec for online MP3 compression
* Support of external MP3, VQF, RA and AAC encoders for automatic compression after extraction
* Batch compression and decompression of/to WAV files
* Compression offset support for exact compression/decompression
* Detection of pre-track gaps
* Detection of silence in pre-track gaps
* Automatic creation of CUE sheets for CDRWin, including all gaps, indicies, track attributes, UPC and ISRC
* CD player functionality and prelistening to selected ranges
* Automatic detection of drive features, whether a drive has an accurate stream and/or does caching
* Sample Offsets for drives with no accurate streams, including the option of filling up missing samples with silence
* Option for synchronizing tracks for non-accurate stream drives
* Filename editing with local and remote CDDB database and cdplayer.ini support and more features like ID3 tagging
* Browse and edit local database
* Certified Escient ® CDDB(TM) Compatible
* Local CDDB support
* Record and Loop Record functions for recording from LP, radio, etc.
* Automatic rename of MP3 files according to their ID3 tag
* Catalog extraction function
* Multisession (CD-Extra) support
* CD-Text support
* CD-Write support for some drives
* ID3 Tag editor with drag and drop possibility from track listing and database
* Glitch removal after extraction
* Small WAV editor with the following functionality: delete, trim, normalize, pad, glitch removal, pop detection, interpolation of ranges, noise reduction, fade in/out, undo (and more).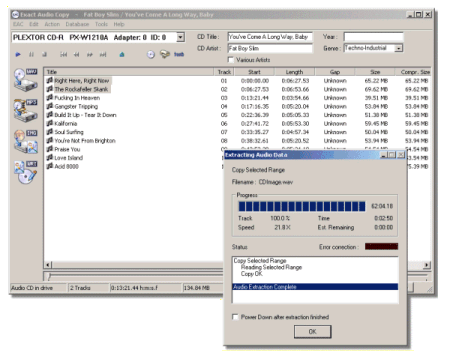 Enjoy! (I know you will)


[Edit 2007/07/23] Major rebuild to include uninstaller, pre-configuration settings, extra goodies and (including links to reliable ripping resources) and bundled the latest FLAC and LAME final
[Edit 2007/07/27] Flac binary updated to 1.2.0, rewrite uninstaller to work with XP Home
[Edit 2007/07/31] Rebuilt optional components section
[Edit 2007/08/04] Fixed entries.ini and optimised some stuff in the inf file
[Edit 2007/08/25] Tweaked uninstall reg entries to force a proper icon to display in Add/Remove programs
[Edit 2007/09/18] Flac binary updated to 1.2.1