I built this for my own personal use last year, but since I was updating it anyway and nobody else has released a proper addon for this and I just happened to be in a very generous mood today.... I thought I would share it with you here. But please be advised that I will not be bothering to update it unless I feel motivated to update my own personal copy - which doesn't tend to be very often and that
I will not do updates for beta builds
.
Special things about this pack are that I have built it to run portably in it's own program folder by placing the mp3tag.cfg file in there, and preconfigured it with a truckload of personal settings and some custom action scripts that I have made for myself over the years and also two of Dano's export templates (because I felt like it). Columns are all preconfigured and program is preconfigured to add DISCID from FreeDB on import and for those of you (like me) who use your modded Xbox as a multimedia center you should enjoy the action script I made which converts foreign characters in filenames so they display correctly on your Xbox drive (there is also a "trim file length" action in there too for Xbox compatibility).
Other than that, I don't think this most excellent tag editor needs any further introduction from me....
Mp3tag v2.39
LINK:
MrsP_Mp3tag_Addon_v2.39-070804
MD5: ED69D5D908F182502DBD3C3147427C6F
SIZE: 1.18 MB
Description: Edit the metadata of common audio formats
Op System: Windows 2000, XP Home, XP Pro & 2003 (x86 only)
Builddate: 2007/07/28
Language: Multi-language
Title: Mp3tag
Version: 2.39
License: Freeware
Website: http://www.mp3tag.de
Installs to: "%programfiles%\Multimedia\Mp3tag"
Uninstaller: Removes program files, shortcuts, reg entries and personal settings
Mp3tag - the universal Tag Editor
Mp3tag is a powerful and yet easy-to-use tool to edit metadata (ID3, Vorbis Comments and APE) of common audio formats. It can rename files based on the tag information, replace characters or words from tags and filenames, import/export tag information, create playlists and more. The program supports online freedb database lookups for selected files, allowing you to automatically gather proper tag information for select files or CDs. Mp3tag supports the following audio formats:
* Advanced Audio Coding (aac)
* Free Lossless Audio Codec (flac)
* Monkey's Audio (ape)
* Mpeg Layer 3 (mp3)
* MPEG-4 (mp4 / m4a / m4b / iTunes compatible)
* Musepack (mpc)
* Ogg Vorbis (ogg)
* OptimFROG (ofr)
* OptimFROG DualStream (ofs)
* Speex (spx)
* True Audio (tta)
* Windows Media Audio (wma)
* WavPack (wv)

Main Features:
* Write ID3v1.1-, ID3v2-, APEv2-Tags and Vorbis Comments to multiple files at once
* Full Unicode support
* Support for embedded cover art
* Automatically create playlists
* Recursive subfolders support
* Remove parts or the entire tag of multiple files
* Rename files based on the tag information
* Import tags from filenames
* Format tags and filenames
* Replace characters or words from tags and filenames
* Regular Expressions
* Export tag information to user-defined formats (like html, rtf, csv, xml)
* Import tag information from online databases like freedb or Amazon (also by text-search)
* Import tag information from local freedb databases
* and much more ...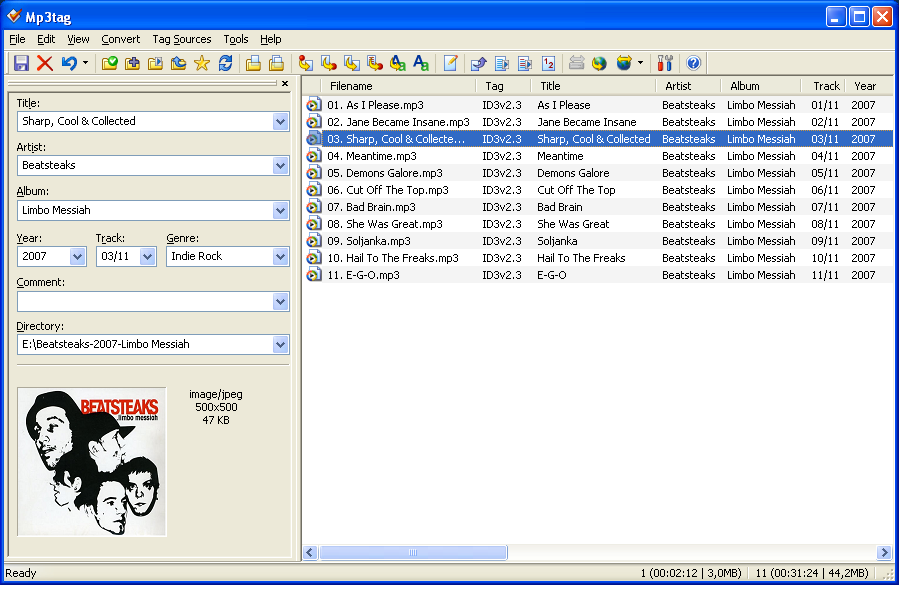 Enjoy (or not)

[Edit 2007/07/27] Minor inf tweak to standardise some code strings with my other addon packs
[Edit 2007/07/31] Update to version v2.39 and rebuilt optional compenents section
[Edit 2007/08/04] Fixed entries.ini and optimised some stuff in the inf file