Another of those old treasures to keep on hand, cos you never know when it might come in useful
VCDGear v3.56.050213b
LINK:
MrsP_VCDGear_Addon_v3.56.050213b-070904
MD5: CAEC737481AC638E104932C69A929B51
SIZE: 2.27 MB
Description: Extract MPEG streams from CD images and more
Op System: Windows 2000, XP & 2003 (x86 only)
Builddate: 2005/02/13
Language: Multi-language
Title: VCDGear
Version: 3.56.050213b
License: Freeware
Website: http://www.vcdgear.com/
Installs to: "%programfiles%\CD-DVD\VCDGear"
Uninstaller: Removes program files, shortcuts, reg entries and personal settings
What is VCDGear?
VCDGear is a tool written to effortlessly extract MPEG streams from CD images, convert VideoCD files to MPEG, correct MPEG errors, create (Super)VideoCDs and more!. The first public release was back in late 1997 and ever since then, VCDGear has continued to grow in complexity, offering a multitude of features to make this a very powerful tool for VideoCD enthusiasts. VCDGear is the result of over 6 years of work.

Some of the features you will find in VCDGear are:
* MPEG stream extractions from popular CD images
* On the fly MPEG correction to fix certain types of MPEG errors
* Super VideoCD and VideoCD image creation
* Sample generation
* Multilanguage support
* Graphical interface and command-line versions available
* Cross platform
* Free! (donations are accepted!)

Anyone requiring the need to transport their video materials will find VCDGear as a useful tool to assist them in getting the video to play on their computer or VideoCD player.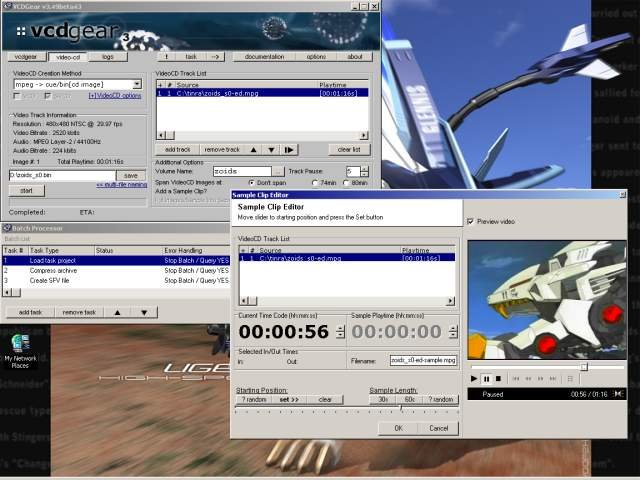 Enjoy (or not)

[Edit 2007/09/04] Minor tweak to remove obsolete reg entry