I got prematurely excited over this program, thinking that it was going to be a worthy substitute to do the job of both
Web Album Generator
and
Toniarts Easy Thumb
, so I made an addon for it. But since using it a few times today I have to say that it turned out to be a disappointment - way to complicated to configure and most of the templates are in German so you can't actually tell what they will do unless you understand that language.
So anyhoo, I have dumped this already, but I am sharing it here in case others might find it useful and so that I didn't entirely waste my time for nothing (cos it was a really large and tedious pack to build). However I will not be maintaining this in future and you should consider this another of those "one time only" releases from me.
JoJo Thumb v2.10.4
LINK:
MrsP_JoJoThumb_Addon_v2.10.4-070918
MD5: E0B9A08A520E6A97F50EDB8E1CC34FAC
SIZE: 1.57 MB
Description: Create thumbnails from many image file types
Op System: Windows 2000, XP & 2003 (x86 only)
Builddate: 2007/08/09
Language: Multi-language
Title: JoJo Thumb
Version: 2.10.4
License: Freeware
Website: http://www.jojosoftware.de/jojothumb/
Installs to: "%programfiles%\Graphics\JoJoThumb"
Uninstaller: Removes program files, shortcuts, reg entries and personal settings
JoJoThumb
JoJoThumb is a utility that allows to create thumbnails from images of the imagetypes BMP, GIF, EMF, JPG, PCD, PCX, PNG, PSD, TGA, TIF, WMF and RAW-Files from Digital-Cameras. Additionally JoJoThumb builds a complete HTML-based gallery with an index-page, thumbnail-pages and image-pages. JoJoThumb is Freeware and working with Windows ME, NT, 2000, XP or Vista.

Features:
* Determing the range of the conversion. It is possible to use filters for filenames, image-dimensions, image-types or a directory-depth.
* Cloning images with a unique dimension. JoJoThumb can copy images to a clone-directory and convert the different image-types to JPG with unique dimensions.
* Text and Imagestamps. There is the ability to insert Text and/or Imagestamps into the cloned image.
* Thumbnailgenerator. JoJoThumb supports images of the image-types BMP, EMF, GIF, JPG, PCD, PCX, PNG, PSD, TGA, TIF, WMF and RAW-Files from Digital-Cameras (CR2, CRW, DCR, DNG, MRW, NEF, ORF, PEF, RAF, RAW, SRF).
* Creating a HTML-based gallery. Based on the images and their thumbnails it is possible to generate a HTML-Gallery. It contains an index-page, one or more thumbnail-pages and optionally a html-page for each image. Many options allows to define the appearance of the conversion.
* JoJoScript. A special aid for creating the HTML-Gallery is JoJoScript. JoJoScript let you use information about the current states of the process like the number of the image within the whole process or the current directory, page-number, line-number, previous and following element, image-size and so on. You can write your own functions using loops, comparisons, assignments and function-calls. There are many built-in functions for maths, strings, converting, image-information, input/output. A few datatyps for variables are available.
* EXIF/IPTC data and JPG-Comments. Exif-data which is stored in images of digitalcameras can be extracted. This is working for IPTC-data and JPG-Comments too.
* Profiles. Every adjustment made for settings of the coversion is stored in profiles for later reuse.
* Multilanguagesupport for User-Interface. Currently german, english, dutch, spanish
* Batch-Ability. JoJoThumb can automatically invoked by commandline-arguments.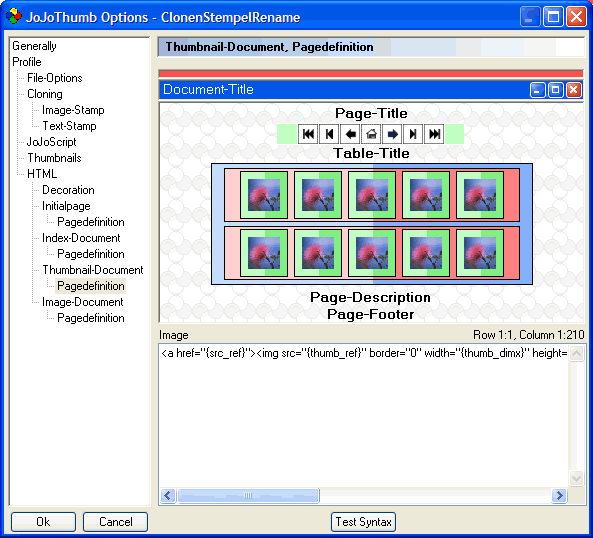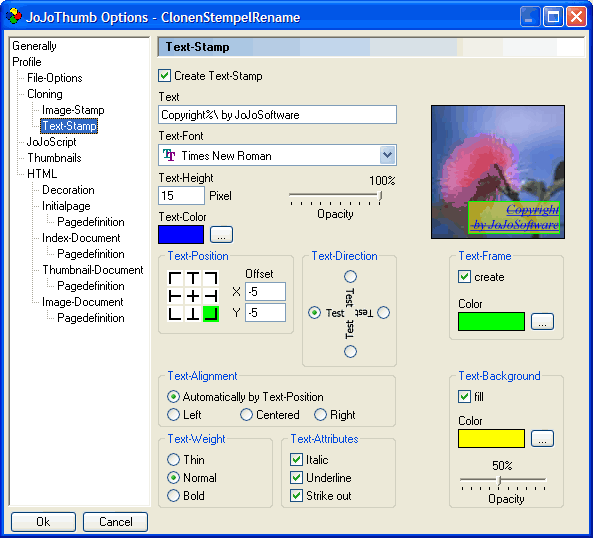 Enjoy (I didn't LOL).... or not

[Edit 2007/09/18] Minor tweak to remove some redundant inf code