OK I've been in a snot about updating this since Ludde sold the software to Bram Cohen (friend of the anti-piracy agencies) but I've finally bitten the bullet and made a new version cos I am in the process of rewriting all my addons to have uninstallers.
Because some peeps are not happy about Ludde's sellout, cynical about the future of uTorrent under the development of a commercial software company, frustrated with the ridiculously HUGE number of constant bugfix updates this thing has been undergoing over the last few months, worried that their private torrent sites might add uTorrent to their tracker ban lists, or just generally have the perception that recent versions of the program are not performing as well as some previous version.... I have decided to henceforth keep all previous addon versions archived below so y'all can make your own choice about which one you prefer. I also decided to update the older version packs with uninstallers (awwww wasn't I kind)
Please note that this client is my personal edition and there is a lot of stuff which I have customised (icons and permanent download categories and optimisation stuff) and preconfigured to suit myself. Also note that I have made this to be "portable" with everything self-contained inside it's own program folder. If you don't want to use my custom setup then you have two choices - either configure it to your own personal taste on first run OR..... open the settings.dat file in a text editor and delete the contents of it.
Do NOT just delete the settings.dat file or the program will loose it's portability and move all it's config files to %userprofile%\Application Data\uTorrent. In case any of you DID inadvertently do that (cos you didn't read my release notes properly) then I have included a post-install cleanup routine in the reg entries to nuke that on reboot
uTorrent v1.7.4.4482
LINK:
MrsP_uTorrent_Addon_v1.7.4.4482-070909
MD5: 7BD92888AB74EBE3170B4289542567AF
SIZE: 695 KB
Description: The lightweight and efficient BitTorrent client.
Op System: Windows 2000, XP Home, XP Pro & 2003 (x86 only)
Builddate: 2007/09/06
Language: Multi-language
Title: uTorrent
Version: 1.7.4.4482
License: Freeware
Website: http://www.utorrent.com
Installs to: "%programfiles%\Internet\uTorrent"
Installer: Removes ENTIRE program folder and EVERYTHING in it, eg: personal settings, user data, backup dat files created by program AND any torrent files you were silly enough to save in there - so don't say I didn't warn you!
At A Glance
* Multiple simultaneous downloads
* Configurable bandwidth scheduler
* Global and per-torrent speed limiting
* Quick-resumes interrupted transfers
* RSS Downloader
* Trackerless support (Mainline DHT)

Micro-Sized Yet Feature Filled. Most of the features present in other BitTorrent clients are present in µTorrent, including bandwidth prioritization, scheduling, RSS auto-downloading and Mainline DHT (compatible with BitComet). Additionally, µTorrent supports the Protocol Encryption joint specification (compatible with Azureus 2.4.0.0, and now BitComet 0.63) and peer exchange.
Resource-Friendly. µTorrent was written with efficiency in mind. Unlike many torrent clients, it does not hog valuable system resources - typically using less than 6MB of memory, allowing you to use the computer as if it weren't there at all. Additionally, the program itself is contained within a single executable less than 160 KB in size.
Skinnable and Localized. Various icon, toolbar graphic and status icon replacements are available, and creating your own is very simple. µTorrent also has support for localization, and with a language file present, will automatically switch to your system language. If your language isn't available, you can easily add your own, or edit other existing translations to improve them!
Actively Developed and Improved. The developer puts in a lot of time working on features and making things more user-friendly. Releases only come out when they're ready, with no schedule pressures, so the few bugs that appear are quickly addressed and fixed.
Screenshot I made of the custom version I posted here: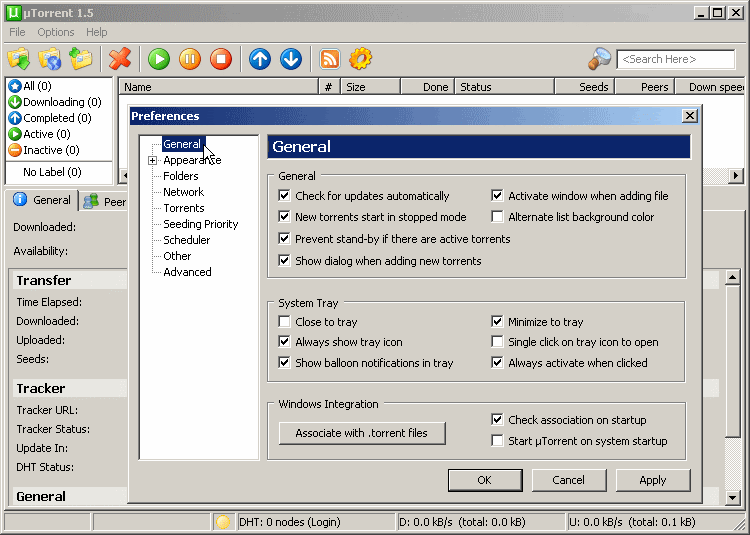 Did I happen to mention how much I LOOOOOOOOOOOOOVE this program?????????
PS: Despite recent developments, this
still
is my fave bitorrent client of all time cos y'all know how much I adore teesney weensey tightly coded utilities with a very small resource footprint. And did y'all know that I had the very rare priviledge of being the first person ever to write a review for this l'il darling over at BetaNews forums
OLD VERSION: uTorrent v1.6.1.490-070811
LINK:
MrsP_uTorrent_Addon_v1.6.1.490-070811
MD5: 2FCB9E095C1957BDFDF3826C4753E279
Builddate: 2007/02/13
SIZE: 572 KB
OLD VERSION: uTorrent v1.5.437-070811
LINK:
MrsP_uTorrent_Addon_v1.5.437-070811
MD5: E1A2F48458014B8200F23C1066D84FEA
Builddate: 2006/03/08
SIZE: 437 KB

[Edit 2006/03/10] Added a QuickLaunch shortcut and file relocated to permanent RyanVM hosting.
[Edit 2006/03/10] Fixed up the status icons and toolbar set, grovelling to the developer for forgiveness

[Edit 2006/03/11] New language pack released today, updated at Firon's request. Cheers!
[Edit 2006/03/12] Another language pack update. Temporary link to Rapidshare till Ryan updates on server
[Edit 2006/04/06] Another language pack update. Temporary Yousendit link below till Ryan updates on server
[Edit 2007/06/27] Updated exe and language files to version v1.6.1.490 and built an uninstaller for it
[Edit 2007/07/02] Minor tweak to inf file to standardise my uninstallation code. Change of addon naming convention
[Edit 2007/07/03] Minor fix to remove obsolete shortcut reference (thanks to 5eraph for the headsup)
[Edit 2007/07/05] Rewrote uninstaller to add a removal prompt
[Edit 2007/07/06] Minor bug fix to hide taskkill CMD window during removal. Big thanks to Kel for the tweak.
[Edit 2007/07/07] Added a startmenu shortcut and some personal configuration settings. Why? Because I felt like it


[Edit 2007/07/21] Updated to version v1.7.1.3360 and rewrote some of the uninstaller code and reg entries
[Edit 2007/07/24] Another effing update - bumped exe and lng files to v1.7.2.3458. ALSO made uninstallers for the older versions of my uTorrent packs and will keep them archived here (see my release notes above)
[Edit 2007/07/27] Minor inf tweak cos I was being fussy
[Edit 2007/08/04] Rebuilt optional components section and optimised some stuff in the inf file
[Edit 2007/08/11] Improved startmenu shortcut install method
[Edit 2007/09/07] Updated exe and language files to version v1.7.3.4470
[Edit 2007/09/09] Updated exe and language files to version v1.7.4.4482